Services
Water Damage Restoration
Flooded basements, pipe bursts, or leaky roofs during winter can wreak havoc on your property. Instead of trying to save a few bucks on repairing it yourself, contact our professionals for water damage restoration in Metro Detroit East.
Our team is licensed, bonded, and insured. We come fully equipped with industrial-grade equipment like moisture meters, air movers, dehumidifiers, foggers, and air scrubbers to remove water and moisture from your premises.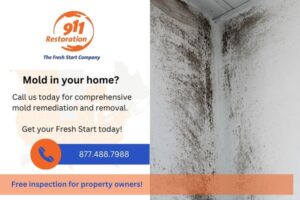 We work strategically to restore your property and give you a quick and fresh start without any delay. As soon as we arrive, our staff conducts a free visual inspection. This gives us a clear understanding of the damages and restoration work needed.
Our water damage restoration professionals handle all aspects of the job while you sit back and watch your property get restored to its functional state. From packing and storing belonging to removing water from every nook and corner, we do it all. We also handle structural drying and dehumidifying and repair water-damaged surfaces like sheetrock, roofing, and drywall. With us, you can expect full property recovery in the shortest time. Call us today at (208) 231-9909
Sanitization Services and Disinfection Solutions
At 911 Restoration of Metro Detroit East, we specialize in sanitization and disinfection services. We help commercial and residential property owners deep clean, disinfect and sanitize their premises to lower the risk of infection, especially following water damage repair or disaster restoration services.
Allow our specialists to sanitize your property with the best techniques and disinfectants according to the CDC and EPA guidelines. Benefit from our sanitization and disinfection solutions to provide your customers and employees the peace of mind that you are taking the best measures to prevent the spread of germs and provide them a healthy and safe place to work and interact. Call us on (208) 231-9909 to schedule a service.
Mold Removal
Apart from water damage restoration in Metro Detroit East, we also offer expert mold removal. This service is perfect for protecting your home and the health of your loved ones from life-threatening and property-damaging infestations.
Mold is the worst contaminant you can find in your office and home. As it is not easily visible, it can silently damage your property and reduce indoor air quality. Mold grows anywhere on damp surfaces, such as wallpaper, ceilings, wood, drywall, and even insulation material. If left unaddressed, it can impede your quality of life and put the structure of your home at risk.
Don't delay! Seek fast and reliable mold remediation from us. We use the most advanced tools to detect mold and specialized chemicals for mold removal. Mold may be everywhere in nature, but it does not belong in your home or office. Contact us today.
Sewage Backup Cleanup
When you experience a sewage backup, contact us immediately. Sewer backups are an emergency as the water may contain bacteria, viruses, and microbes that can expose you and your loved ones to severe illnesses like tetanus, hepatitis A and giardia, while blocked water pipes can lead to substantial property damage.
Remember that it is not a job to tackle alone. Call our professionals for sewage backup cleanup and water damage mitigation. Our trained and IICRC-certified experts know how to provide thorough and excellent mold removal. Let us help you overcome the sewage backup problem and eliminate the risk of pathogenic contamination. Schedule a service. Call us on (208) 231-9909.
Fire and Smoke Damage Restoration
Fire damage can destroy your property and belongings to a great extent. We understand that fire damage is a huge loss. Not only do you have to deal with the inconvenience caused by the aftermath of a fire, but you also have to find the courage to cope with the intensely stressful and emotional aspect of it. This is why our fire damage restoration specialists are at your disposal on your first call. You can rely on us to provide caring and immediate services to restore your home to its livable condition.
Though many memories may be lost in a fire, we, however, ensure quality work and restoration services so that your property looks as good as new. We help you take a fresh start and make new memories in a safe environment.
Disaster Restoration
Disaster may strike when least expected, but one thing that you can always expect from us is that we are here at your service when you need us most. Our compassionate disaster cleanup staff understands the financial burden, emotional crisis, and stress that we have to go through at this point.
But don't worry! We can come to your rescue. Call us right away to get your property in its pre-damaged state. We go above and beyond to serve you. Our experts can inspect your property damage and assist you with not just the restoration work but also filing the insurance claim so that you can get the compensation you are entitled to. We strive to serve the community in these testing times, helping everyone come together, recover and resume normal life just before the disaster. Call 911 Restoration of Metro Detroit East today.
Commercial Restoration
Water or fire damage in Metro Detroit East can bring your business to a standstill. It can take weeks and months to restore operations which can cost you millions of dollars in business loss, and you may even lose your customers. Seek services for fire or water damage restoration in Metro Detroit East from us.
Unlike our contemporaries, we are at your service round the clock—24/7/365, even on the holidays!  We perform restoration work to the highest standards and in the fastest time, ensuring you resume business operations with minimal interruption or long business downtime. We are a name you can trust and rely on for quality commercial restoration contractor services. Call on of our IICRC-certified specialist today!
911 Restoration of Metro Detroit East is located at 17430 Ecorse Rd., Allen Park MI 48101.  
Allen Park
Lincoln Park
Pleasant Ridge
Oak Park

Grosse Pointe
Saint Clair Shores
Farmington